At Christmas I decided to give some of my homemade soaps. I had fun playing around with different 'flavours'. I ended up giving chocolate mint swirl and honey oatmeal scrub soap.
They seemed to go down rather well. My sisters children loved them, although my 3 year old niece had to be reminded that it wasn't to eat. I have now had some requests for some more, so today I have been in the kitchen playing with 'flavours' again.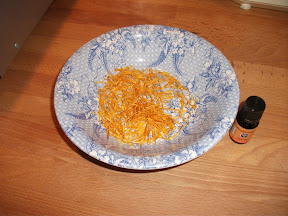 I collected and dried some calendula petals from the garden in the summer so I decided to add these with some orange essential oil.
It has given the soap lovely orange speckly appearance.
It is now sitting on my worktop, wrapped in an old sleeping bag, setting. Tomorrow I will chop it up into bars and them it will need 6 weeks to cure. Luckily I have some of the Christmas bars to hand out until then.
Unfortunately I can't sell my soap, there are too many rules and regulations, but I enjoy making it and am happy to make it for my family. My mum had given me a bag full of lavender from her garden so I may use some of that in my next batch.