The garden has been a little neglected recently, partly due to this.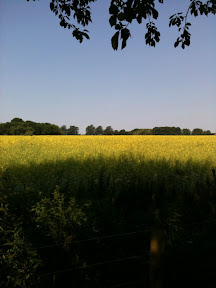 Oil seed rape growing in the field at the end of the garden, very pretty but it gives me dreadful hay fever so I've been limiting my outdoor time.
There are a few things doing well though.
We've had loads of raspberries, there is a bit of a pause in production at the moment but new ones are forming on the autumn fruiting ones.
I am a little disappointed in the new lasagne beds, the layer of cardboard doesn't seem to have done a very good job at keeping the weeds at bay (maybe I didn't overlap it enough) and the bale of straw i used must have had lots of wheat seed in it which germinated. Some of my usual crops didn't do well, although the runner beans are flowering so we should have some beans to eat soon.
And the corn is doing really well.
I am really pleased with the forest boarder though.
It's looked really good and we have had quite a bit of food from it. Best of all it has pretty much looked after itself.
I planted lettuces amongst the other plants and they have done really well and seemed to have gone unnoticed by all the usual pests.
There are lots of herbs all doing well planted among the fruit trees and bushes.
This plant i particularly love, it's tree spinach, it started life as a very small plant bought at a local garden centre in the spring and has grown to 4 or 5 foot tall. It's really attractive, the small pink leaves are great in salads and the larger leaves can be used as a substitute for spinach.
I'm hoping to get out into the garden this weekend, now the rape seed flowers have finally gone over, to try to get the weeds back under control so I can plan for some winter crops.